The Greyhound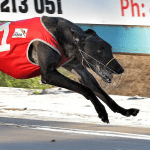 Kensa was purchased for Race A Chaser Syndications at the Richmond Puppy Auctions in 2014 from the acclaimed breeders Dennis and Anne Barnes and is a daughter of Spring Gun and Little Bit Fancy.
Kensa's damline is littered with top class performers including Fancy Will (WON 2011 Group 1 Paws of Thunder), Fancy Dean (finalist 2012 Group 1 Golden Easter Egg), Fancy Jill (won 2013 Group 1 NZ Oaks), Mucho Client (finalist 2012 Group 1 Vic Peters Classic) and Fancy Liza (won 2013 Group 1 Association Cup), Fancy Mandy (finalist 2010 Group 1 Golden Easter Egg), Fancy Penny (Richmond 41.85 TR) and Tonight Tonight (finalist 2014 Group 2 Dapto Puppy Classic).
Due to her purchase through the Richmond Puppy Auction, Kensa is eligible for the 2016 Richmond Puppy Auction race series . The series is only open to greyhounds who were entered in the 2014 Richmond Puppy Auction and comprises a $100,000 to the winner race in May 2016 over 535m, as well as two other feature races over 400m and 618m.
Kensa broke in sensationally at Cudal, which is run by Dennis and Anne Barnes, and has been in pre-training in the Hunter Valley since September 2015. During that time she has continued to learn and improve and we are confident that she will develop into a talented TAB class greyhound.
Kensa, whose kennel name is Coco; had her first official run on a racetrack on February 18, 2016, when she stepped out in a performance trial over 400m at Gosford.
Kensa showed plenty of potential in that run, working hard to find the front around the outside of another greyhound and holding on to win by three quarters of a length. Kensa clocked 23.19 over the track and trip which would have won four of the six races over the distance that day.
We are confident that Kensa will continue to improve off that run and will mature into a very nice race bitch, another positive being she has plenty of time on her side to do so as she does not turn two until May 2016.
Kensa is currently being trained by Michael and Jodie Manuel in the Hunter Valley, NSW.
By purchasing a racing share in Kensa, you also guarantee a share in her future breeding career. With such impeccable bloodlines, she could prove to be invaluable when the time comes to head to the breeding barn.
The Syndicate
The official registered owner of Coco is the Race A Chaser Coco Syndicate. The syndicate has a total of 20 shares available for syndication.
The Syndicate Manager for Coco is Tatum Osborne Young who has a great deal of experience within the greyhound racing industry and is the manager of several other successful syndicates across Australia.
The price per share will be $2,750 including GST. The cost per share may increase or decrease as Coco's market value increases or decreases throughout her race and breeding career.
Contact The Syndicate Manager For More Information
| | |
| --- | --- |
| Race Name | Kensa |
| Kennel Name | Coco |
| Sire | Spring Gun |
| Dam | Little Bit Fancy |
| Whelped | 12th May 2014 |
| Colour | Black |
| Sex | Bitch |
| Record | 56st: 7-11-8 |
| Prizemoney | $12,188 |
| Trainer | Ray & Susan Pitstock |
| Status | Breeding |
| Race Eligibilty | 2016 Richmond Puppy Auction Race Series |
| Shares | All Sold |
| Price | |
| PDS | Coco Syndicate PDS |
It is a requirement of all Race A Chaser syndicates that potential owners download, read, understand and sign the Product Disclosure Statement (PDS)
Race A Chaser Coco Syndicate Members
| | |
| --- | --- |
| Tatum Osborne Young | Syndicate Manager |
| Kevin Pitstock | Racing Manager |
| Kat Ernst | Communications Manager |
| Kelly Nichol | |
| Tayler Masson | |
Retired
The Sire
Spring Gun is a son of the great Bombastic Shiraz (Black Shiraz x Bombastic Blonde) out of Ready For Rain (Big Daddy Cool x Ready To Rise). Spring Gun was trained in NSW by Christine Oldfield and was whelped in June 2009. The red fawn speedster won 18 of his 27 starts with one second and one third, his best win coming in the 2011 Group 1 Vic Peters Classic over 520m at Wentworth Park.
Since retiring to stud, Spring Gun has sired countless quality chasers including Spring Leaf (2nd 2015 Group 1 National Futurity), Armed And Ready (finalist 2015 Group 2 Shepparton Cup), Gun Mcbain (1st 2015 Group 3 Gawler Cup), Targaryen (2nd 2015 Group 2 Launching Pad), Spring Bonanza (finalist 2015 Group 2 Dapto Puppy Classic) and Magic Spring (won 2016 Group 1 National Derby, Maitland 450m 24.74 TR).
The Dam
Little Bit Fancy is an exceptionally bred blue bitch which had 22 starts for eight wins, four seconds and two thirds including a 29.61 victory at Sandown Park and a 17.16 track record performance at Coonamble over 301 metres.
Little Bit Fancy has had two litters (including her Spring Gun litter) so far, her first litter being a 2013 mating to Head Bound which produced nine pups. Every pup from the first litter has won races, her most notable offspring being Amelia Christa, Fancy Dancer, Fixate, Little Bit Slick and Upstate Fancy.
The Grand Dam
Little Bit Fancy is a daughter of super sire Where's Pedro out of prolific producer Sweet Fancy. Sweet Fancy is a daughter of Collision and Miss Fancy and took out the 2007 Group 3 Richmond Oaks final.
Her litter to Where's Pedro also produced 2011 Group 1 Paws of Thunder winner Fancy Will and 2012 Group 1 Golden Easter Egg finalist Fancy Dean. Sweet Fancy also produced Fancy Liza, the winner of the 2013 Group 1 Association Cup, in her 2010 mating to Brett Lee.
The Trials
Won – Gosford PT – 18/2/2016 – 23.19 (400m)
The Races
1st – The Gardens 400m Maiden – 22.68 Best 12/3/2016
1st – The Gardens 400m 5th Grade – 23.03 Best 18/3/2016
5th – Richmond 400m 5th Grade – 22.66 Best 26/3/2016
The Pedigree
Coco
Spring Gun
Bombastic Shiraz
Black Shiraz
Bombastic Blonde
Ready For Rain
Big Daddy Cool
Ready To Rise
Little Bit Fancy
Where's Pedro
Brett Lee
Elusive Rebel
Sweet Fancy
Collision
Miss Fancy
The Race Form
| Place | Box | Track | Dist | Grade | Date | Odds | 1st/2nd | Pos | 1st Sect | Time | Weight | Margin |
| --- | --- | --- | --- | --- | --- | --- | --- | --- | --- | --- | --- | --- |
| 1st | 1 | The Gardens | 400m | Maiden | 12/3/16 | $1.70 | Marlow Miss | 111 | 10.98 | 22.68 | 25.7 | 7 3/4 |
| 1st | 2 | The Gardens | 400m | 5th Grade | 18/3/16 | $1.50 | Scary Mary | 211 | 11.20 | 23.03 | 26.0 | Head |
| 5th | 7 | Richmond | 400m | 5th Grade | 26/3/16 | $6.60 | Monsignor Ace | 865 | 8.73 | 22.66 | 25.8 | 7 |
The Photos