The Greyhound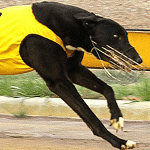 Noakis Girl was purchased for Race A Chaser Syndications at the Greyhound Racing Victoria (GRV) Ready 2 Race Auctions and is daughter of Big Daddy Cool and Noaki Pace, making her a half sister to multiple Group 1 finalist and 2014 Group 1 Temlee winner Zelemar Fever.
Noakis Girl's damline is well known and capable of producing group racing quality greyhounds. Her pedigree is littered with some of Australia's best greyhounds and brood bitches in the last decade, including multiple Group 1 winner Betty's Angel, Miss Mini Mouse, Vertex, Bo Frazier, Talk's Cheap, Glamorous, Magic Sprite, and Hurunui Hitman; plus countless others. The Race A Chaser Noaki Syndicate can reasonably look forward to an exciting breeding career after a race career with Noaki.
Noakis Girl was purchased based on her trial efforts (see below) during the Bendigo R2R auction series, with the assessment that she was carrying treatable injuries in those runs. Race A Chaser can confirm that on examination, Noaki was suffering from a sprained toe on her left front foot, and a fractured right hind fibula. Both injuries were completely manageable given time and veterinary attention, and have since healed fully
It was our opinion that Noakis Girl had considerable upside on her exposed form at the time, and that she would develop in to a classy performer; with a strong breeding career to follow.
That assessment has since been confirmed with Noakis Girl now having started 12 times for six wins, one second and two thirds, with three of the wins in best of night times.
The Syndicate
The official registered owner of Noakis Girl is the Race A Chaser Noaki Syndicate. The syndicate has a total of 20 shares available for syndication. The price per share is $2,200 including GST. The cost per share may increase or decrease as Noaki's market value increases or decreases throughout her race and breeding career.
Contact The Syndicate Manager For More Information
| | |
| --- | --- |
| Race Name | Noakis Girl |
| Kennel Name | Noaki |
| Sire | Big Daddy Cool |
| Dam | Noaki Pace |
| Whelped | 30th September 2012 |
| Colour | Black |
| Sex | Bitch |
| Record | 20st: 7-1-3 |
| Prizemoney | $9,900 |
| Trainer | Ray & Susan Pitstock (NSW) |
| Status | Retired |
| Race Eligibilty | GRV Ready 2 Race Series |
| Shares | All Sold |
| Price | |
| PDS | Noakis Syndicate PDS |
It is a requirement of all Race A Chaser syndicates that potential owners download, read, understand and sign the Product Disclosure Statement (PDS)
Race A Chaser Noaki Syndicate Members
| | |
| --- | --- |
| Tatum Osborne Young | Syndicate Manager |
| Kevin Pitstock | Racing Manager |
| Joe Verheijen | |
| Les Sedman | |
| Shayne Nichol | |
Next Race: Retired
The Sire
Big Daddy Cool, a former Meadows 525m track recorder holder; won the 2004 Group One Silver Chief Final at The Meadows. He also won the 2004 Group Three SA Interstate Challenge at Angle Park, and was a Group Adelaide Cup and Group One Hobart 1000 finalist. Retiring after 27 starts for 14 wins and five minor placings with prize money of $100,176, Big Daddy Cool has sired the 2011 Golden Easter Egg winner Radley Bale, and stud dogs Cool Effort and Take The Kitty.

The Dam
Noaki Pace, by Spiral Nikita out of Leprechaun Pace; is a full sister to 2012 NSW Greyhound of the Year and upcoming stud dog Oaks Road. The 29kg bitch won five races from 23 starts, with personal bests at Sandown Park including 34.62 over the 595m and 29.85 over 515m. This litter is her second, with her first litter producing star WA chaser Zelema Fever, winner of 29 races and $286,195 in prizemoney; and Noaki Spitfire who has won 14 races.

The Grand Dam
Her grand dam Leprechaun Pace, won the 2006 Group One Paws Of Thunder at Wentworth Park and is a litter sister to three time Group One winner and 2006 Greyhound of the Year Betty's Angel. Vertex, Talk's Cheap and Bo Frazier are also highly successful offspring of Leprechaun Pace, whose bloodlines are highly sought after by breeders. Leprechaun Pace's daughter Mystic Pace (litter sister to Noaki Pace) has produced star printers Boyce Road and Red Road.

The Trials
Bendigo 425m R2R Heat 17/11/14
Bendigo 425m R2R Final 22/11/14
The Races
3rd Geelong 400m Maiden 23.05 18/09/15
1st Ballarat 390m Maiden 22.30 23/09/15
1st Ballarat 390m Grade 7 Heat 22.15 BON 30/09/15
1st Ballarat 390m Grade 7 Final 22.08 BON 07/10/15
1st Shepparton 390m Grade 5 22.38 BON 12/10/15
1st Bendigo 425m Grade 5 23.91 16/10/15
5th Geelong 400m Restricted Win Heats 22.30 23/10/15
3rd Warrnambool 390m Grade 4/5 22.10 12/11/15
4th Warrnambool 390m 5th Grade Heat 22.18 19/11/15
1st Warrnambool 390m 5th Grade Heat 22.11 4/12/15
2nd Warrnambool 390m 5th Grade Final 22.04 10/12/15
8th Ballarat 390m 5th Grade 22.13 16/3/16
The Pedigree
Noakis Girl
Big Daddy Cool
Just The Best
Credibility
Flying Amy
Sobbing Sal
New Tears
Wee Sal
Noaki Pace
Spiral Nikita
Phantom Flash
Minnies Nikita
Leprechaun Pace
Brett Lee
Leprechaun Yap
The Race Form
| Place | Box | Track | Dist | Grade | Date | Odds | 1st/2nd | Pos | 1st Sect | Time | Weight | Margin |
| --- | --- | --- | --- | --- | --- | --- | --- | --- | --- | --- | --- | --- |
| 3rd | 1 | Geelong | 400m | Maiden | 18/09/15 | $2.20 | Fabstar | 44 | 8.63 | 23.05 | 25.2 | 1.13 |
| 1st | 3 | Ballarat | 390m | Maiden | 23/09/15 | $3.30 | Dyna Ditto | 11 | 8.55 | 22.30 | 24.8 | 6.94 |
| 1st | 2 | Ballarat | 390m | Grade 7 Heat | 30/09/15 | $2.20 | Deadset Jet | 21 | 8.49 | 22.15 BON | 24.7 | 3.40 |
| 1st | 7 | Ballarat | 390m | Grade 7 Final | 07/10/15 | $2.70 | Allen Terminator | 21 | 8.36 | 22.08 BON | 24.8 | 0.05 |
| 1st | 2 | Shepparton | 390m | Grade 5 | 12/10/15 | $1.20 | Rosette | 11 | 8.36 | 22.38 BON | 24.8 | 3.67 |
| 1st | 5 | Bendigo | 425m | Grade 5 | 16/10/15 | $2.00 | Despedida | 11 | 6.53 | 22.91 BON | 24.8 | 1.25 |
| 5th | 2 | Geelong | 400m | RW Heat | 23/10/15 | $1.70 | Dina Bale | 55 | 9.07 | 22.18 BON | 24.9 | 6.75 |
| 3rd | 6 | Warrnambool | 390m | Grade 4/5 | 12/11/15 | $3.20 | Miss Tron | 34 | N/A | 22.10 | 24.6 | 2.87 |
| 4th | 5 | Warrnambool | 390m | Grade 5 Heat | 19/11/15 | $3.50 | Tron's Son | 66 | 9.07 | 22.18 | 24.5 | 6.11 |
| 1st | 8 | Warrnambool | 390m | Grade 5 | 4/12/15 | $1.90 | El Bee Cee | 11 | 8.48 | 22.11 | 24.7 | 6.71 |
| 2nd | 1 | Warrnambool | 390m | Grade 5 Final | 10/12/15 | N/A | Allen Terminator | 43 | 8.73 | 22.04 | 24.7 | 0.76 |
| 8th | 1 | Ballarat | 390m | Grade 5 | 16/3/16 | $2.80 | Oma's Girl | 37 | 8.39 | 22.13 | 24.7 | 12.04 |
The Photos